You are responsible for converting your referrals.
So, a satisfied customer or a friend of a friend knows someone who could use your services. Great! What usually happens next is they hand your business card to their friend, or even worse…they just tell them your name and business.
At this point, you have a "referral" who simply knows your name and will not lift a finger to contact you ever. Is that really useful?

We have all been there. A friend tells us they have a friend who needs our service, but we have learned to not expect anything to come from that interaction. Why? Is there a better way?

Short answer: Yes.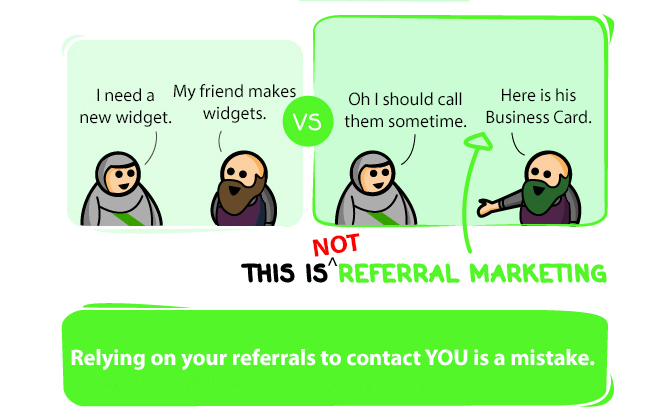 A referral isn't a referral unless YOU take the next step.

What a referral isn't: "Hi, my friend Chris makes websites. Here is his business card. Give him a call sometime."
What a referral is: "Hi, my friend Chris makes websites. I'll have him call you and get you setup with a great price. What's the best number for him to reach you at?"
Do you see the difference? The main factor in how effective a referral is, resides in who's proverbial court the ball is in.
It takes less than 60 seconds to coach any customers or friends on how to ask for a referral. If you have a referral system with rewards or incentives in place, this is doubly important.
Take a look at these stats for the conversion rates between referrals that relied on the lead to call as the next step, vs referrals where the business was expected to call as the next step.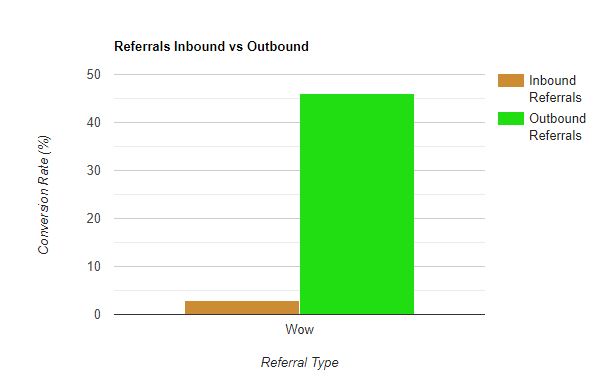 Stop wasting time with bad referrals.
The next time you interact with your friends or customers in a business setting, tell them how to ask for a referral.
"Here are some business cards to hand out. If you give anyone a business card, get their phone number and send it to me. People lose business cards all the time, and it's just easier to get what they need if I can give them a call!"
That's it! That is the number 1 thing that will turn your referrals into real actionable leads.
The next trick is learning how to ask someone for referrals so specifically that they immediately name off 2 to 3 potential customers for you instead of the usual "I don't know".
For that info, check back soon, or follow us on Facebook and send a message.
If your business or organization would like to work with Wabash.Marketing as to achieve results in both sales and marketing, please request a Free Consult here:
FREE MARKETING CONSULT